We all have that list of dream riding destinations: Whistler Bike Park, Revelstoke, Moab, Queenstown, Finale Ligure – you know, THE places. But right next to it, we have the "I wonder what's out there" list: those places where you can only wonder if there's actual riding to be had. These are the spots where maybe you see some pro riders go to for a video shoot, where they spend months building trails on private land or somehow find a helicopter to take them to the top of an incredible mountain. But what about the rest of us? Can we just pack our bikes, throw some jerseys in a bag, hop on a plane, and use Trailforks and the local bars to find spots to ride? That's exactly what I put to the test this past summer. With no agenda, no tour guides, and no ideas of where to go, I packed my trail bike, booked a flight and a U-Haul box truck in Anchorage, Alaska, and took off for the Last Frontier.
Initially, when planning this trip, I realized that summers in Alaska are the peak of craziness and travel season. Rental cars were anywhere from $250-400 a day, hotel rooms were $300+ a night, and flights even from Seattle were $1200. This really put a damper on the idea of going. You know how life sometimes hits you like a brick to the face? Well, that happened. All of a sudden it was the 4th of July, and I realized I had been planning on a trip North for months but hadn't actually booked anything. Luckily, sometimes waiting until the last second has its benefits. I used 30,000 Alaska Airlines miles for a round-trip flight and only had to pay $40 a day for a U-Haul box truck, plus some Airbnb hunting to get the cost down to something manageable. On July 19th, I jumped on a flight bound for Anchorage. Upon landing, I had my first – and only – encounter with legendary Alaska wildlife: a moose. Did it live in the airport? Maybe. Was it still shockingly huge? Absolutely. Did it give me a bone-chilling realization about where I had just landed, with no idea of what the riding, locations, or wildlife would be like? YUP.
"Wait, so you flew here, of all places, to do what?" "Like a pedal bicycle?" "Do they even do that up here?" "But why a U-Haul?" "You at least have friends up here, right?" These were all questions from my wildly confused Uber driver on the way from the airport to the U-Haul rental center.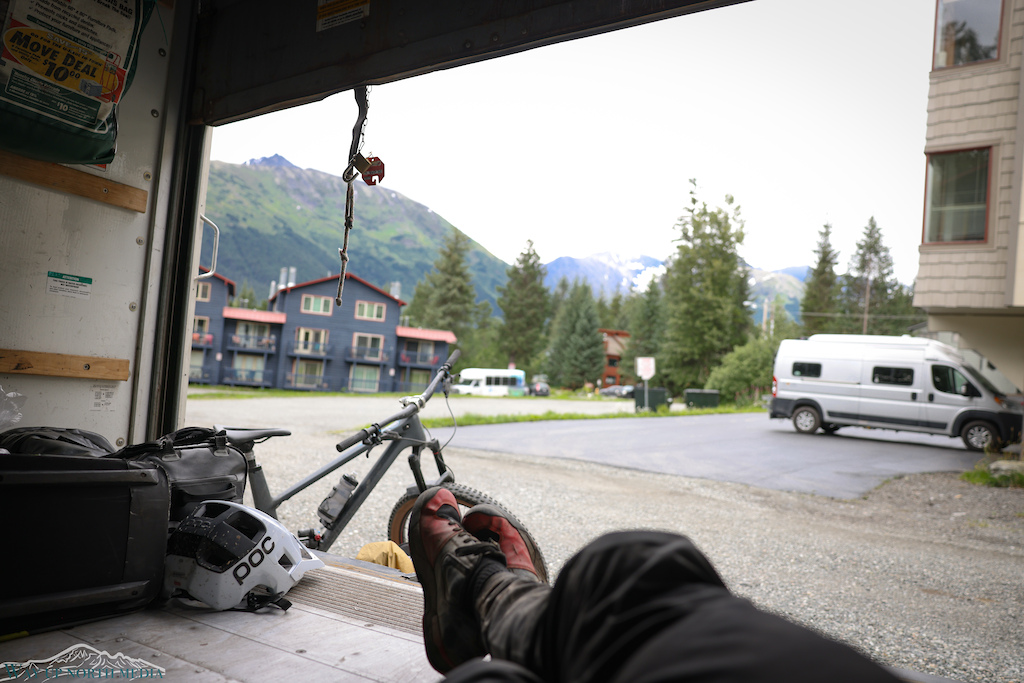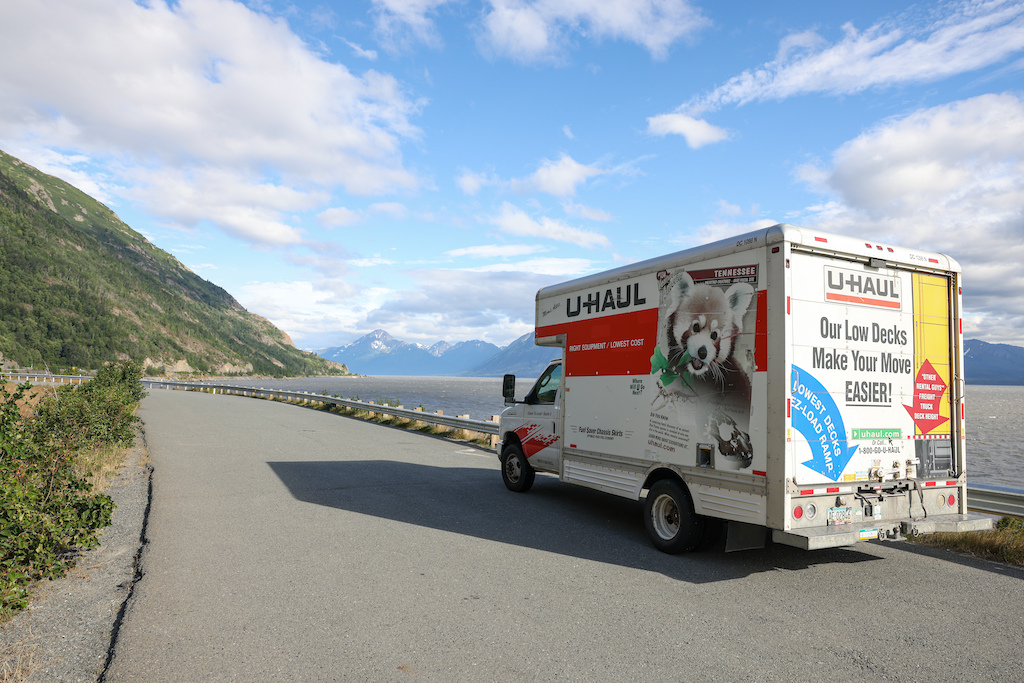 It turns out the 15′ Box truck is the ultimate adventure vehicle
The first stop was Girdwood, a small town south of Anchorage, about 45 minutes by car or 1 hour and 10 minutes by clumsy and slow box truck. Home to the Alyeska Ski Resort and Bike Park (YES, BIKE PARK), Girdwood also has a number of Airbnb's, a couple of cute restaurants, and one of the goofiest/cutest markets I have ever been to. I arrived, checked into my Airbnb, and was exhausted. All day traveling, and I was over it. I unpacked my gear, climbed into bed, and realized: the sun was still out. Not only still out, but it was the middle of the day – "you ain't sleeping anytime soon" kind of out. IT WAS 10 PM, and then it hit me: "Oh yeah… I forgot. Land of the midnight sun… this is just a thing here". So I jumped out of bed, built my bike, cleaned off camera memory cards, made food, and kept busy until sunset at around 1:30 am. Finally, the blinds closed, in bed, and time for sleep.
The first day was just about checking out the new trail bike I had built up for adventuring, I opted for a 130/150mm Forbidden Druid, full 29, ZIPP carbon wheels, and all the fancy AXS bits. I figured it would be the perfect bike for being able to tackle anything I might find. So step one was to head to the Alyeska LBS to pickup a waterbottle and ask around for the trail beta, the bulk of the bike park would be closed until Thursday so I had a day to kill. They pointed me in the direction of a hiking/multiuse trail called Winner Creek that went deep into the mountains and showed me roughly on a map how to find a few little fun techy bits off the main trail. So I decided I would head up to the resort and see if anyone else was around that might have some ideas. Either being on a trail bike or the feeling of adventure, or my inner child getting excited to take videos for Tiktok, or maybe it was just the breathtaking views but the next thing I know I looked up and I am miles away from civilization, passing a backpacker, who was loaded from head to toe in backcountry gear, including bear spray on her belt, a bear bell on her bag, a safety whistle around her neck, bug spray on her hip and I realized I have nothing on me. Like less than I would bring to ride to the bar, in total on me I had one water bottle, my helmet, a credit card, riding shorts, a T-shirt, bike shoes, and my phone, that was it. I turned around and began pedaling back to town, very content that the biggest creature I came across was someone's 180lbs Husky.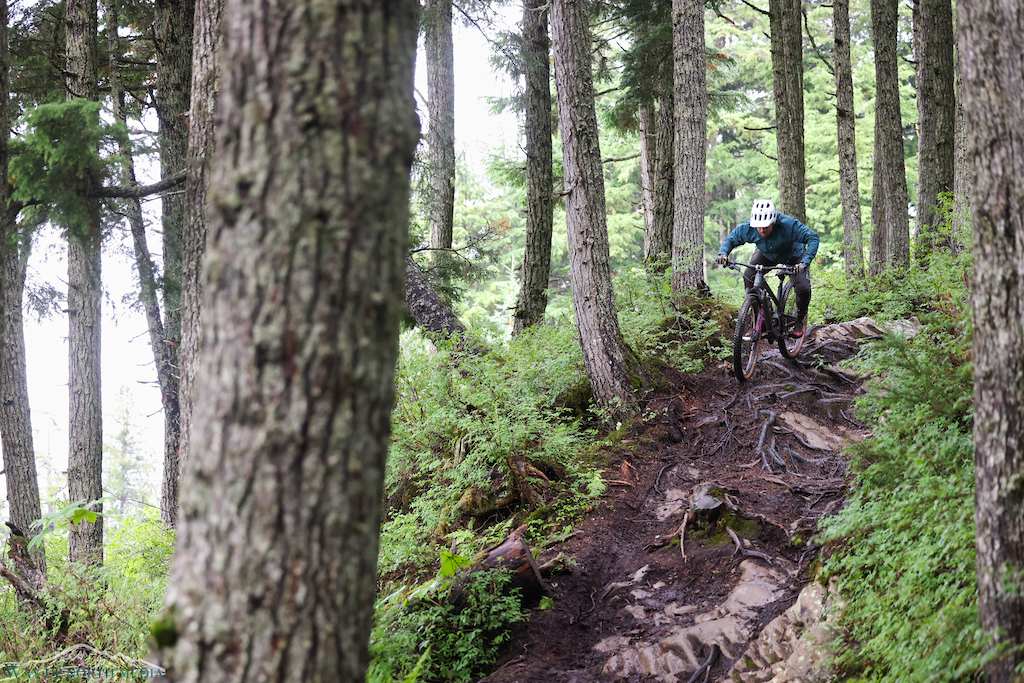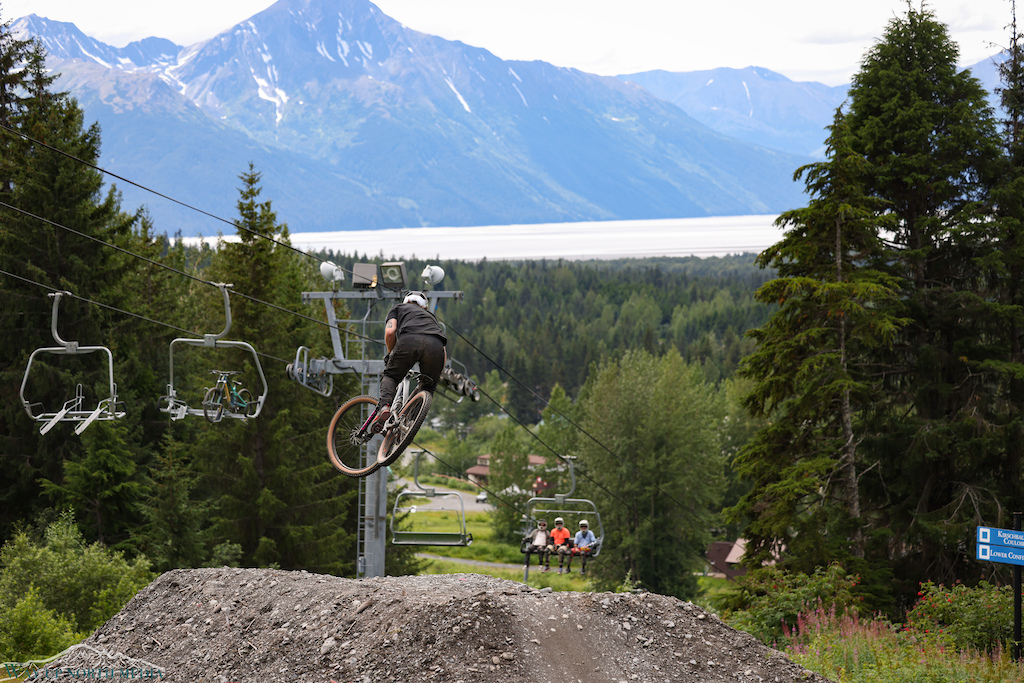 Thanks to Trailforks the first weekend I spent riding the Alyeska bike park, while the entire mountain wasn't open due to low snow lines what I did get to ride was a blast. While I was there they had two of the three lifts running, the Bear Cub Quad Chair offered a more beginner-friendly side of the mountain featuring short runs, less steep terrain, and some fun jumps! Ted's Express Chair offered access to the main portion of the mountain where they had much steeper terrain with a few main Blue and Green trails that ran from top to bottom with several single and double black trails connecting between them. The final area accessed by the Glacier Bowl Express which was not open while I was there offers access much higher up the mountain with a higher focus on advanced-level trails.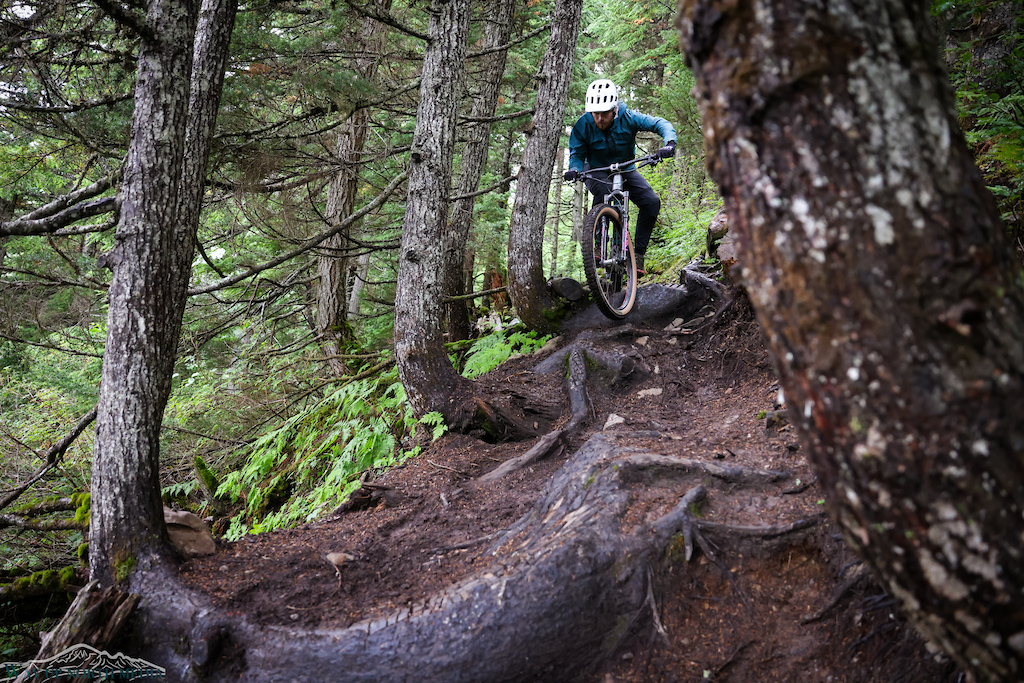 If I had to sum up the bike park I would say that they have almost unlimited potential for trails, the terrain of the mountain was incredibly steep and rocky but with great loamy soil and enough old trees to hold it all together.
Of everywhere I have had the opportunity to ride the Alyeska bike park was one of the most scenic locations, to the point that on the way down it's almost hard to focus on what you are hitting next with the views of the ocean and mountains right in front of you around every corner.
The town of Girdwood was a blast, with live music in the bar at night right at the base of the mountain I was able to meet a ragtag crew from around the United States who had gone up to spend their summer working for the forest service and living 6 deep in their bunk houses. While this was a dead end for biking trail info it was such a fun group to hang out with and be shown some incredible hikes (one of which we accidentally walked several miles past the turn and got very lost on haha). But then it was time to move on, some photos I had seen on Trailforks and Instagram were calling and Wasilla was the next destination.
iPhone "I'm too exhausted to break out the real camera pics"
Leaving the tiny town of Girdwood, I realized that Wasilla was going to be a completely different experience. North of Anchorage, Wasilla is a legitimate city with all the riding happening at least a 30-minute drive out of town. My first stop was a bust. After driving an hour north of town, it turns out it was a locals-only shuttle spot that someone had put on TF. It was fairly safe to assume that someone from the mainland wouldn't bother going to look for it. After climbing up the access road full of quads, dirt bikes, UTVs, and Jeeps, I managed to find one trail (I think) that was very overgrown. I rode it until I couldn't and then hiked back up to see if there was another trail to get down. It of course was a wildly gnarly chute. I love steeps, but let me tell you, this was a scree field with nothing at all to hold you. And if that wasn't sketchy enough, I had to hit it with my 40-pound camera bag on my back. I made it down the chute and found a trail that had several really great rock rolls. I made it back to the truck and started back into town. Later, chatting with some locals, I found out that even they don't ride there very often and it isn't a totally "kosher" spot to ride.
Burned out from my big, pedally adventure, I decided that the next spot to check out should be somewhere I was guaranteed to be able to ride. In Anchorage, there is a small ski resort and bike park called Hilltop. I hadn't even realized that it was lift access until I found them on Instagram. I figured a little chair lift time would be the perfect redemption. I went down to check it out and it was a blast! When I say it is a small resort, I mean Midwest-sized – 300 feet of vertical elevation – but located right in Anchorage, so it was packed with riders, many of them younger kids just getting into riding, which was so incredible to see! Speaking with one of the employees at Hilltop, they said that there used to be almost no one under 25 in Alaska who rode bikes, but with the access to trails increasing and Hilltop opening as an easy and safe location for kids to ride, they have seen a boom in the next generation of mountain bikers starting to come up. While Hilltop was small, they had a few very fun trails with more being built regularly, and the chairlift was a great "shuttle bump" to some of the off-mountain trails that offered more challenge and longer runs.
https://www.instagram.com/reel/CgUIlo_gGbg/?utm_source=ig_web_copy_link
Ultimately, the last 1/3 of the trail, Taco Sauce, absolutely won my heart. With every feature flowing into the next and a phenomenal drop at the end, it was right up my alley.
While riding Hilltop and chatting with people in the parking lot after one trail came up again, and again, and again. "16 Mile DH trail" North of Wasilla it was the one absolute must-hit from advanced riders to beginners it was THE trail to check out. So that was the mission, with my time in AK running out I took the next day to check out this mystical trail. While the trail is very easily shuttled I was solo so I had to ride the road up but even with my camera pack the overall mellow grade of the road made it a manageable climb. I dropped in and while I was wowed by the view in the first few turns I couldn't put together why this trail had so much attention, it was kind of washed out, overgrown, and some of the corners just felt awkward… Giving it a few more turns it went from being an awkward Green to an unbelievable flow trail, every roll linking into the next turn and every scenic view trying to snatch your attention away from the trail for just long enough that you end up in the bushes. It was everything it was cracked up to be. The lush rolling greens that seemed to feed endlessly up the mountain valley was breathtaking. The Druid scheming with each corner screamed "you know you can hit me faster and push harder". Just short of 2 miles and 1000ft of elevation change later I was standing at the van absolutely dumbfounded. Only to realize, I got so caught up in the ride that I did the whole trail and got so wrapped up in it that I forgot to use my camera even once. So here we go again. Climb up the shoulderless windy road with the giant camera bag part 2.
When I got back to the top I realized, that may have been the happiest accident of the whole trip. Golden hour was just kicking off, the sun sitting in the perfect spot to take pictures and I took full advantage of it, sessioning a few different corners, and playing on some of the jumps, I was able to capture some of my favorite images I have ever taken.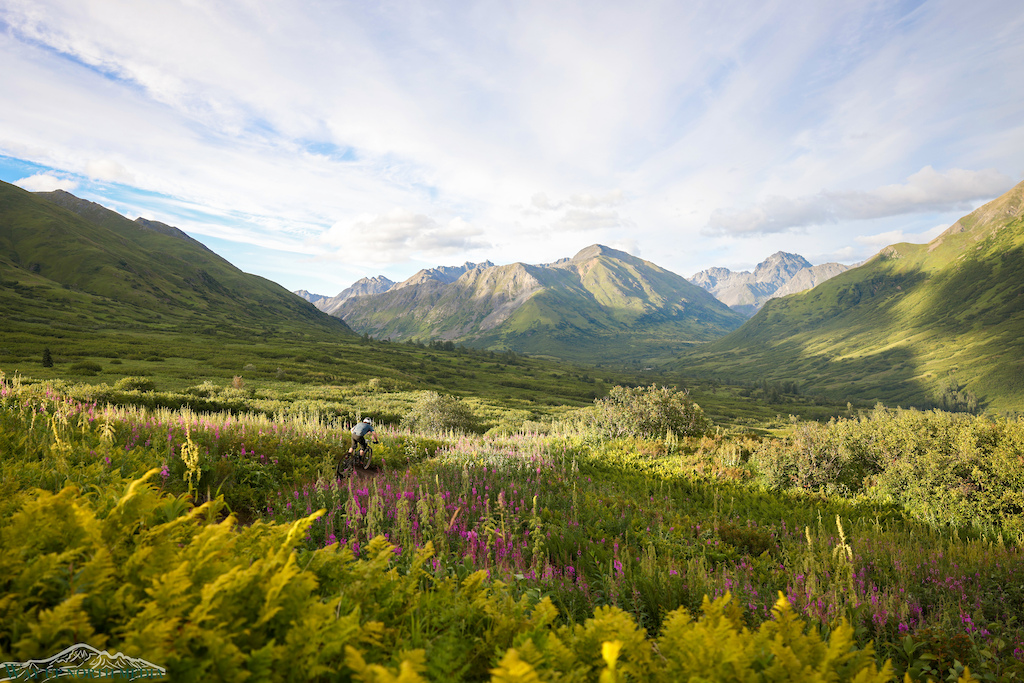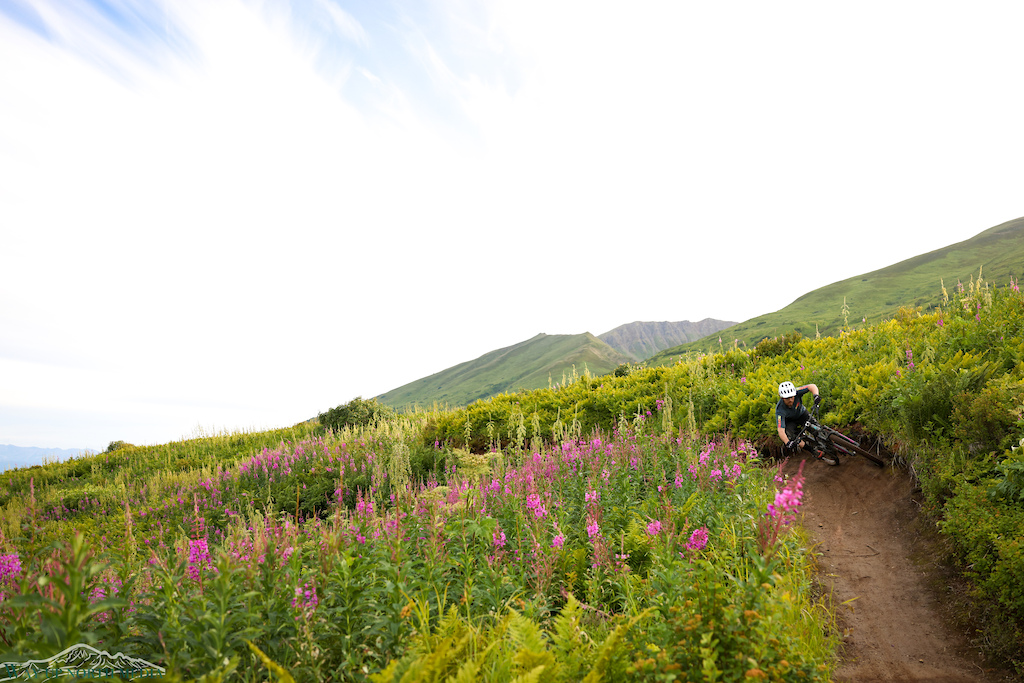 I am honestly still unsure if this trail is real or just made of what we all dream of
And just like that, my time in Alaska came to a close, back to the U-Haul Rental center, another Uber with a shocked driver, and back into the Ted Stevenson Anchorage International Airport.
What did we learn?
1. You can find trails anywhere all you need to do is take your bike, a sense of adventure, Trailforks access, and your trusty box truck.
2. Some of the best trails are the ones you hear about in the parking lot.
3. Shooting photos and videos of yourself for an entire trip is hard, takes a lot of time and a TON of hike-a-bike
4. Alaska is insanely rad and I only scratched the surface
5. The mountain bike community is truly global and you should never underestimate the power of that.